Hello From the Cooper Molera Adobe! Here are some highlights from this month: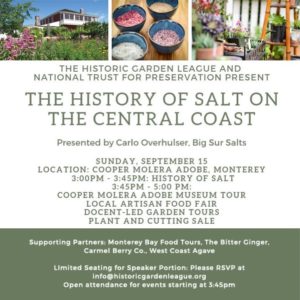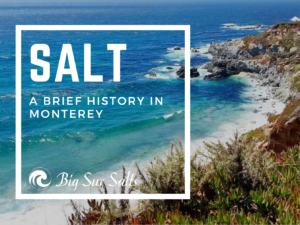 The History of Salt: September 15, 2019
A big thank you to The Historic Garden League and The National Trust for Historic Preservation for presenting THE HISTORY OF SALT event for their "Bringing History Alive" Series.
This group gardens each week at the Casa Del Oro and The Cooper-Molera Adobe's Garden once a month. If you are interested in helping out visit their website and fill out a membership form. Volunteers for CMA don't have to pay the membership dues. Check out their website below.
SAVE THE DATE: Next event is Saturday Nov. 2 at the Monterey Public Library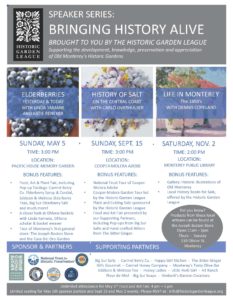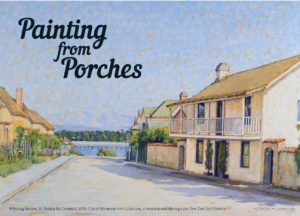 Painting From Porches: September 20-22, 2019
We had a blast at our last weekend's event Painting from Porches! From a blistering sunny Saturday to a great Sunday sale at our very own Cooper-Molera Adobe.
Thanks to all that signed up and participated! We appreciate all your feedback.
Painting from Porches is a plein air art show and sale featuring the work of fine artists painting the picturesque town of Monterey. Artists had the opportunity to paint from porches, balconies, piers, wharfs and platforms creating a new perspective for visual interpretation of the town.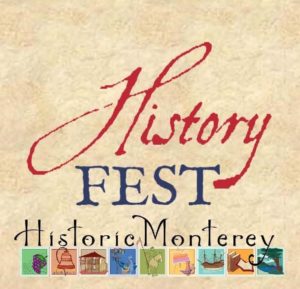 COMING UP: History Fest: October 12, 2019, 10am-4pm
Monterey History Fest has grown into a festival that offers a variety of programs for both residents and visitors to experience Monterey's unique cultural heritage and historic resources. History Fest has developed a schedule designed to bring Monterey's past to life during this community-wide event. All events are free of charge unless otherwise noted.
The center for Monterey History Fest will be located at upper Custom House Plaza in downtown Monterey where you can gather information from various cultural heritage groups and learn about the weekend's activities. The information center will be open Saturday and Sunday from 10am to 4pm. Additionally, the Monterey State Historic Park's will open several adobes free to the public including Custom House, Pacific House, Cooper-Molera Adobe and the Stevenson House throughout the weekend.
If you are interested in volunteering, or have more questions please email Dianna O'Briant at dobriant@savingplaces.org, or call 831-223-0172.