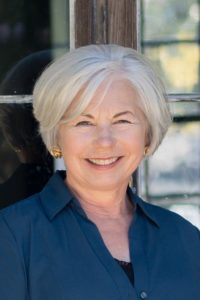 Meg Clovis: Co-Director of Partnerships and Interpretation
mclovis@savingplaces.org
831-223-0170 x7779
Meg Clovis served as Cultural Affairs Manager for the Monterey County Parks Department for 36 years. In this capacity, she oversaw the County's historic preservation program and the County museum at San Lorenzo Park.
In 2017 she joined the National Trust for Historic Preservation as Co-Site Director for the Cooper-Molera Adobe in Monterey.
Meg is active in Monterey County's historic preservation and philanthropic communities. She is a member of the Historic Resources Board for the City of Salinas, volunteers for AgKnowledge and the Monterey Jazz Festival, and serves on the Community Foundation for Monterey County's Grants Committee.
Meg received her B.A. in Art History from Mills College followed by an M.A. in Preservation Studies from Boston University, with an emphasis on American architectural history. She has written two books on Monterey County history, The Salinas Valley and Monterey County's North Coast.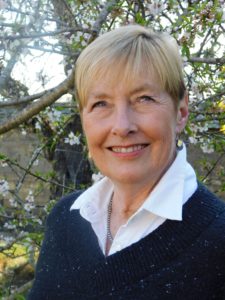 Susan Klusmire: Co-Director of Partnerships and Interpretation
sklusmire@savingplaces.org
831-223-0171 x7780
(Pictured left) For more than 35 years Susan worked to create and administer cultural activities for the City of Monterey, Carmel and Monterey County, managing all aspects of history, art and preservation. She has worked continuously to coordinate with multiple community organizations committed to enhancing the history and culture of the Monterey region.
As the Museum and Cultural Manager for the City of Monterey she served as staff to Colton Hall Museum and Cultural Arts Commission, overseeing numerous public art projects and cultural events. She developed the Alvarado Gallery rotating art program at the Monterey Conference Center, Elkins Sculpture Park, the Blue Heron Sculpture at Lake El Estero, the Grizzly Bears at city hall and the Sanctuary Sculpture on Cannery Row just to name a few. After retirement, she became the Executive Director for the Carmel Art Association and worked successfully to bring the association and the community together.
After another attempt at retirement Susan found herself managing several local events; Art in the Adobes, Painting the Town, Program Manager for Historic Monterey, a partnership with the City of Monterey, Monterey State Historic Park and the Monterey History and Art Association and Co-Director of the Art at the Airport Program. She is currently Co-Director of Partnerships and Interpretation for the National Trust for Historic Preservation at the Cooper Molera Adobe in historic Monterey.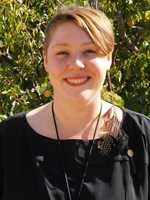 Dianna Shea O'Briant: Museum Assistant
dobriant@savingplaces.org
831-223-0172 x7776
Dianna Shea O'Briant is an artist and surface designer from Paris, Texas. She holds a BFA in Illustration and Art History from the Memphis College of Art in Memphis, TN and now resides in Marina, CA using a love of nature and art history to lead her career of Illustration and Surface Design.
She has 6 years of experience leading docent tours in museums, and galleries, workshops for basic illustration and painting techniques, sketch booking skills, and children's programming such as art camps, classes, and family activities working alongside the education departments at the Dixon Gallery and Gardens in Memphis, TN, the Monterey Museum of Art in Monterey, CA, and now in the Cooper-Molera Adobe. You can find her drawing, gardening, or baking when she is not making her own fine art.
Efrain Zarazua: Buildings and Ground Maintenance Technician
ezarazua@savingplaces.org
831-223-0172 x7776
Efrain is from Guanajuato, Mexico, and has been living on the Monterey Peninsula since 1980. He has experience through self-employment in gardening for residents of Pebble Beach, Carmel, and Carmel Valley, as well as experience working in the fracking industry in Crystal City, Texas. Since then he has been working with the Historic Garden League to restore Cooper Molera's Gardens with Master Gardener Isabella de Sibert. He spent two years cleaning the overgrowth of the property and restoring the history of the gardens including the orchard and rose garden.
At Cooper Molera he oversees grounds work, maintenance on the Adobe buildings, cleanup, pruning, fertilizing and all-around garden work for the site.