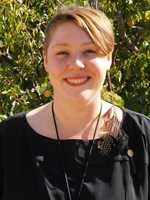 Dianna Shea O'Briant: Senior Museum Assistant
dobriant@savingplaces.org
(800) 944-6847 x9183
Dianna Shea O'Briant is an artist and surface designer from Paris, Texas. She holds a BFA in Illustration and Art History from the Memphis College of Art in Memphis, TN and now resides in Marina, CA using a love of nature and art history to lead her career of Illustration and Surface Design.
She has 6 years of experience leading docent tours in museums, and galleries, workshops for basic illustration and painting techniques, sketch booking skills, and children's programming such as art camps, classes, and family activities working alongside the education departments at the Dixon Gallery and Gardens in Memphis, TN, the Monterey Museum of Art in Monterey, CA, and now in the Cooper-Molera Adobe. You can find her drawing, gardening, or baking when she is not making her own fine art.
Efrain Zarazua: Buildings and Ground Maintenance Technician
Efrain is from Guanajuato, Mexico, and has been living on the Monterey Peninsula since 1980. He has experience through self-employment in gardening for residents of Pebble Beach, Carmel, and Carmel Valley, as well as experience working in the fracking industry in Crystal City, Texas. Since then he has been working with the Historic Garden League to restore Cooper Molera's Gardens with Master Gardener Isabella de Sibert. He spent two years cleaning the overgrowth of the property and restoring the history of the gardens including the orchard and rose garden.
At Cooper Molera he oversees grounds work, maintenance on the Adobe buildings, cleanup, pruning, fertilizing and all-around garden work for the site.