Hello from Cooper Molera Adobe! Thanks for signing up to our e-mail updates. Here are some highlights from this month:
——————————————————————————————————–

A Visit from Captain Cooper School
A big thank you to Captain Cooper's school for visiting us as their namesake for the school! Our group of kinders got to experience the Cooper-Molera Adobe and learned about Captain Cooper who lived onsite, they decorated handmade cookies courtesy of Alta Bakery using edible flowers and herbs from our garden and enjoyed a tour of the home.
If you are interested in bringing your group for a tour, contact Dianna O'Briant at  dobriant@savingplaces.org or 831-223-0172 for scheduling and more information!
——————————————————————————————————–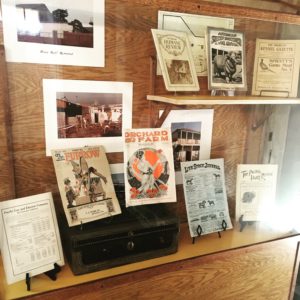 A big thanks to History Fest!
A big thanks to History fest and everyone who participated. It was a lovely weekend for history in Monterey! We showcased magazines and journals the Cooper and Molera families owned in the 1800's.
Monterey History Fest has grown into a festival that offers a variety of programs for both residents and visitors to experience Monterey's unique cultural heritage and historic resources. History Fest has developed a schedule designed to bring Monterey's past to life during this community-wide event.
Join us again next year!
——————————————————————————————————–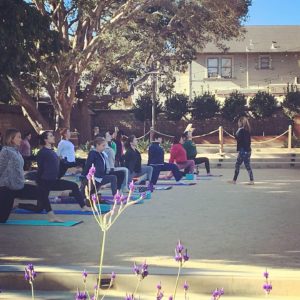 Om Studios visited Cooper-Molera this month with an early morning Yoga session on Oct. 20th. A big thanks for enjoying our event space with us!
——————————————————————————————————–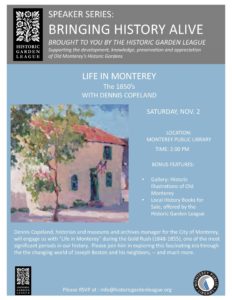 Life in Monterey in the 1850's with Dennis Copeland: November 2, 2019
Location: Monterey Public Library
Time: 2:00
Dennis Copeland, historis and museums and archives manager for the City of Monterey, will engage us with "Life in Monterey" during the Gold Rush (1848-1855), one of the most significant periods in our history. Please join him in exploring this facinating era through the changing world of Joseph Boston and his neighbors, — and much more.
Please RSVP at info@historicgardenleague.com
Hosted by the Historic Garden League.
——————————————————————————————————–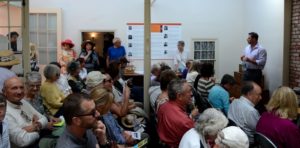 Volunteer Training and Information Session (FREE)
.Event Address: 506 Munras Avenue Monterey, CA 93940. Cooper Molera Adobe: Skylight Room
Date: November 13, 2019
Time: 2:00-3:30pm
Contact us at 831-223-0172 or dobriant@savingplaces.org
Please RSVP with at dobriant@savingplaces.org or 831-223-0172
(We have limited seating space)
At our Docent Training and Information session we will be providing information that will aid in future volunteer opportunities, information about the history of the site, our recent re-opening, a tour of the site, and a Q&A Session.
We will also discuss our upcoming Holiday event, Christmas in the Adobes and volunteer opportunities and shift information for this event.
——————————————————————————————————–