Upcoming Garden events at the Cooper Molera Garden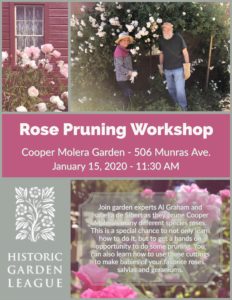 Rose Pruning Workshop With Al Grahm and Isabella de Sibert
Join garden experts Al Grahm and Isabella de Sibert as they prune Cooper Molera's many different species roses. This is a special chance to not only learn how to do it, but to get a hands on opportunity to do some pruning. You can also lean how to use those cuttings to make babies of your favorite roses, salvias and geraniums.
Date: Jan 15, 2020
Time: 11:30 am
To register call or email: Bonnie Brooks at:
marybonnie@gmail.com or 831-625-2101
Location: 506 Munras Ave, Monterey CA, 93940
Price: FREE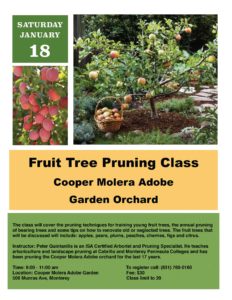 Fruit Tree Pruning Class at the Cooper-Molera Garden:
The class will cover the pruning techniques for training young fruit trees, the annual pruning of bearing trees and some tips on how to renovate old or neglected trees. The fruit trees that will be discussed will include: apples, pears, plums, peaches, cherries, figs and citrus.
Instructor: Peter Quintanilla is an ISA Certified Arborist and Pruning Specialist. He teaches arboriculture and landscape pruning at Cabrillo and Monterey Peninsula Colleges and has been pruning the Cooper Molera Adobe orchard for the last 17 years.
Date: Jan 18, 2020
Time: 9:00 – 11:00 am
To register call: Peter Quintanilla at (831) 760-0160
Location: Cooper Molera Adobe Garden 506 Munras Ave, Monterey CA 93940
Price: $30, class limit to 20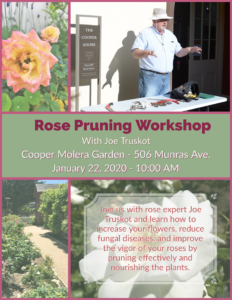 Rose Pruning Workshop With Joe Truskot
Join us with Rose expert Joe Truskot and learn how to increase your flowers, reduce fungal diseases, and improve the vigor or your roses by pruning effectively and nourishing the plants.
Date: Jan 22, 2020
Time: 10:00 am
To RSVP call 831-223-0172 x7776 (Cooper-Molera Front Desk)
Location: 506 Munras Ave. Monterey, CA 93940
Price: FREE