History Hunt and Community Party 2020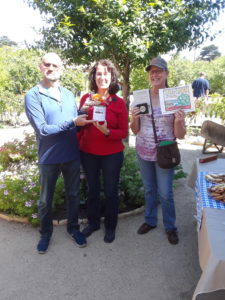 On Saturday, August 22nd the public is invited to join the fun in Historic Downtown Monterey!
It is FREE for participants of all ages and is designed for individuals, families, friends and teams!
Learn about local history, visit important historic sights, view architectural treasures and public art.
The History Hunt will begin at 12:00pm. Pick up your packets at Cooper Molera Garden between 11:30 and 12:00. Your packet will include a list of 25 items to find or learn about, a map of Monterey's historic district, Covid-19 protocols for a safe event and of course the rules!
Because of the current pandemic we will not be able to host a Community party or awards ceremony. The awards and correct answers will be listed on the Cooper Molera website on Sunday August 23rd.
Due to the Covid-19 pandemic our rules for participation have changed. Participants will be required to follow safety protocols including wearing face coverings, social distancing and avoid gathering during the hunt.
Presented by Cooper Molera Adobe in cooperation with City of Monterey, Old Monterey Business Association, Monterey State Historic Park, the Monterey History & Art Association and the Casa Munras Garden Hotel & Spa
This event is in commemoration of Monterey's 250th Birthday
When: Saturday, August 22nd, begin at 12:00pm through 3:00pm
Where: Throughout Historic Downtown Monterey beginning and ending at Cooper's Garden   506 Munras Avenue, Monterey
Contact: For more information: visit our website at www.coopermolera.org    –   831-223-0172 x 7776
Questions? Contact Dianna O'Briant at dobriant@savingplaces.org