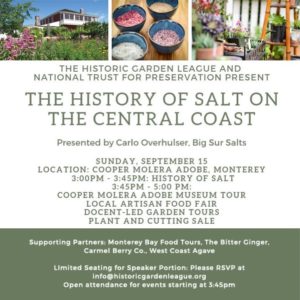 Event Information:
"Bringing History Alive" Series: The History of Salts plus Museum tour, Pop-up Tastings and Plant Sale
Sunday, Sept. 15: 3 – 5:00
Location: Cooper Molera Adobe, 506 Munras Ave. Monterey, CA 93940
RSVP required for Talk. info@historicgardenleague.org
No RSVP needed for Museum Tour, Pop-up Tastings, and Plant Sale
Carlo Overhulser will share his deep study of the history of salt in the Central Coast, followed, at 3:45, with tours of Cooper-Molera Adobe, the Cooper- Molera historic gardens, pop-up tastings, and the Historic Garden League plant and cutting sale.
Pop-up tastings:
Bitters from The Ginger Bitter
Elderberry Cordial and Elderberry Syrup from the Carmel Berry Co
Salts from Big Sur Salts
Honey from the Honey Ladies
Jellies from Friends in Cheeses
Nut butters from Alma
Tours:
In addition there will be docent-led museum tours and garden tours AND we are repeating our VERY popular plant and cutting sale that will include unique cuttings from the Cooper-Molera Garden.