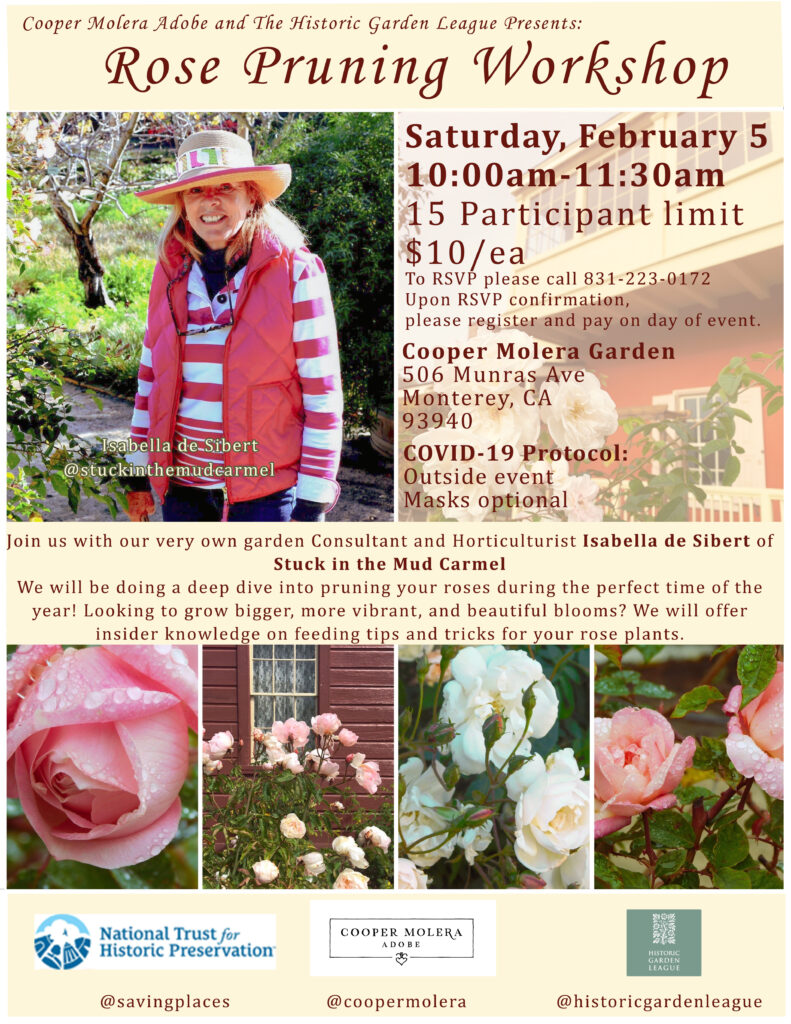 ROSE PRUNING WORKSHOP
Hosted by The National Trust for Historic Preservation at:
THE COOPER MOLERA GARDENS 506 Munras Ave Monterey CA 93940
Saturday February 5, 2022 – 10:00am-11:30am
Love roses but need to learn more about how to take care of them?
Need to upgrade your rose pruning and feeding skills?Looking to get more involved with local historic gardens in Monterey?
This workshop is perfect for you!
Join us with our very own garden Consultant and Horticulturist Isabella de Sibert of Stuck in the Mud Carmel. We will be doing a deep dive into pruning your roses during the perfect time of the year! Looking to grow bigger, more vibrant, and beautiful blooms? We will offer insider knowledge on feeding tips and tricks for your rose plants.
Registration
15 participant limit$10/person
To RSVP please call 831-223-0172 or email Dianna O'Briant at dobriant@savingplaces.org.
Upon confirmation, please register and pay on the day of the event.
COVID 19 Protocol: Outside event masks optional .
Questions?
Contact 831-223-0172 or dobriant@savingplaces.org
Dianna O'BriantSenior Museum Assistant Cooper Molera Adobe